Carpet Stretching in Naperville, IL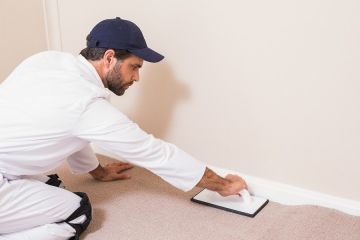 Has your carpet developed ripples? Are you concerned that you or a loved one will trip over your carpet's wrinkles? There is a simple solution! Call True Eco Dry to stretch your carpet in Naperville Illinois. If you have wall to wall carpeting in your home of place of business, you may very well require carpet pulling, or stretching at some point during it's lifetime. Carpet stretching is the process of re-tightening your carpeting and then fastening it to your flooring.
---
Call today for a free quote!
---
Naperville Carpet Stretching
The Naperville carpet repair specialists at True Eco Dry are skilled in repairing your carpeting problems, saving you money and preserving the life of your carpet. Stretching your carpet will help it look flat and new again and will add years to its lifespan. True Eco Dry can provide an inexpensive solution to your wrinkled carpeting in Naperville by stretching it back to it's original state.
Why Have Your Naperville Carpet Pulled, AKA Stretched?
Most importantly, carpets pose a tripping hazard. Whether the carpeting is in a home or place of business, we're sure you want to keep your family, employees and visitors safe! Second, rippled carpet is just unattractive. Pulling it will increase the aesthetic quality of your environment. Last, stretching will increase the life span of your carpeted flooring surfaces.
Why Call True Eco Dry to Stretch Your Carpet in Naperville?
Unless you are experienced with carpet stretching techniques, this is one home improvement task that is best left to the professionals. True Eco Dry's carpet repair technicians are fully licensed and insured to properly care for your carpets. Carpet stretching does require skill and training to do properly. Don't put your carpeting investment at risk! True Eco Dry can protect your flooring and offer stretching at a great price.
Are you ready to restore your Naperville carpet to it's prior splendor? Call the experts at True Eco Dry today!
---
WHAT CUSTOMERS ARE SAYING:
5★★★★★ - "Carpet looks almost new again even after 10 years, very happy with the results."
Christine Lopez, Carpet Cleaning in Crestwood, IL - 11/18/17
---
5★★★★★ - "He was very good and friendly, he did an amazing job. I am very pleased"
Brenda Caile, Carpet Cleaning in Schiller Park, IL -11/11/18
---
5★★★★★ - "Justin was kind, considerate and very efficient. I'm sorry that he had to put up with a barking dog the whole time, but it didn't deter him in anyway. I look forward to having this company come out to my home again."
Sue Colangelo
---
"Thanks so much! I'm really grateful :)"
Kaitlin M., Carpet Stain Removal in Chicago, IL 3/7/17
---
Call for FREE Carpet Stretching Quote
---